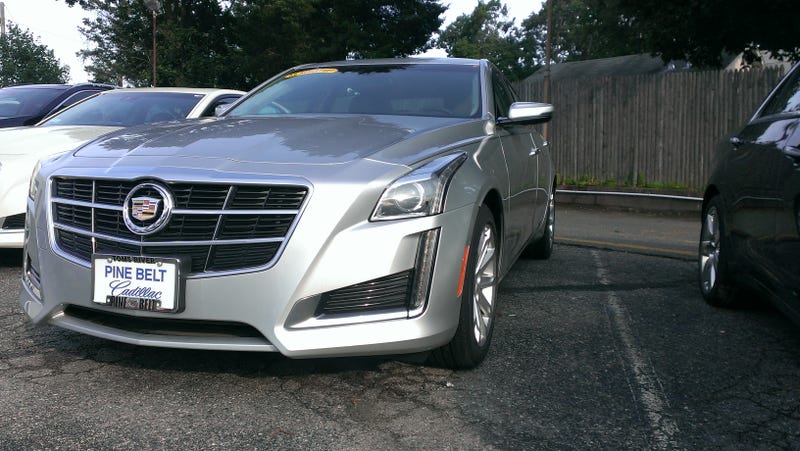 Four cylinder mid-sized luxo sedans are all the rage nowadays with middle aged, somewhat well-to-do folks who just want a fancy badge and could care less about anything else. These cars are for people who get great joy out of asking their friends "Could you grab my BMW key out of the bowl for me?" at their weekly swingers party. At least that's what I think as the slicked haired, fake watch wearing douche bag in the base model 528i cuts me off. And I'm only picking on the 528i because it's the best selling four cylinder luxo sedan. However, there's a new contender to the swinger friendly sedan segment that I feel like no one has been talking about. So I decided to find out if it was any good.
(Full Disclosure: Cadillac wouldn't lend me a CTS, so I went to my local Cadillac Dealership, Pine Belt Cadillac of Toms River, NJ, and asked to demo drive a CTS 2.0T and they surprisingly said yes.)
I so badly wanted to drive the CTS Vsport, with its twin turbo V6 and 8-speed auto, but that car's been so thoroughly tested and reviewed that everyone already knows it's great. No one pays any attention to it's little four banging brother, so I decided to.
Exterior: Not Too Shabby For A Standard Model.
Admittedly, it was hard to get into a base model ("Standard" as Cadillac calls it, because "base model" sounds to cheap,) 2.0T version when a fully loaded Vsport was sitting right next to it. I was actually quite relieved to see that the Standard car isn't lacking much on the exterior in comparison with the Vsport. Yes the Vsport does look better but not by much, the Standard car is certainly still a looker. The CTS in general is the best looking car in the segment, at least to these eyes. It looks muscular with those crisp, sharp lines and upright headlights, yet it's still subtle enough to look elegant. Just a really handsome looking car.
Interior: A Base Model GM Car That Doesn't Feel Like A McDonald's Ball Pit?
The interior was a pleasant surprise, after all this was a base model GM car, and they aren't known for their quality interior materials. However the seats were fantastically comfortable, the door panels were full of leather and had this really nice looking wood trim. If it was fake wood, it had me fooled. The steering wheel was the right size, was nicely bolstered and had a quality feel to it. However, it's not without faults. This was the most basic of models so it didn't have a sunroof or heated seats, things I think should be standard for almost 50 grand. Overall though, it definitely holds its own against the big bad Germans.
Engine: The Important Part, Can The Four Cylinder Still Be Fun?
In a word: Yes. This four banger is no slouch. With 272 hp, the little turbo four really pulls. It isn't the best sounding engine, but it makes up for that with a smooth, strong power delivery that has no problem hauling such a big heavy car around. It's also well packaged, pretty much the entire engine sits behind the rear axle. If it was a Ferrari, they'd call it "Front-Mid Engine". Kudos to Cadillac.
Gearbox: No Manual Option, No Worries.
The only transmission option is a 6-speed auto. I had gone into the drive already thinking that the trans was gonna be the egg on this cars face. It honestly proved me wrong. It was smooth, smart and quick in auto, and snappy and responsive when using the, as standard, paddles. The paddles themselves felt a little cheap and plasticky, but they worked so well I didn't mind. Pulling off rapid downshifts was a breeze and redline upshifts were responsive, there was very little time between pulling a paddle and it actually shifting cogs.
Ride: Standard Shocks Sums It Up.
The ride was decent. With its basic shocks it didn't have that magical balance of ride comfort and composure that the magnetic dampers have. It was well damped though, rock solid with little vertical movement over bumps. It's just not as silky smooth as the Bimmer or Benz. However, anyone would be happy to drive this thing daily. Very little tire noise and a calm composed suspension make it a fine riding car, if not as magical as its older Vsport brother or even some of its German rivals.
Handling & Brakes: This Is Where The CTS Gets Ahead Of Zee Germans.
Cadillac shocked everyone with the ATS due to that cars tremendous chassis balance and fantastic steering. This car is no different. Steering is sharp, accurate and very quick. I didn't test how many turns to lock to lock but it can't be many. The chassis is equally as good, following your steering inputs perfectly. It makes perfecting your driving lines easy. And for such a big car, it's quite the athlete, it changed directions beautifully with no fuss. Like Adrian Peterson in a suit. It's worth noting that this was a RWD version, so I'm not sure how AWD might affect things. My guess is that I'd rather have the RWD car, but I can't say for certain. It also came with Brembo (!) front brakes as standard, which are simply fantastic, loads of stopping power with great pedal feel, not too touchy with nice progression.
Overall:
This really is a great car. The one I drove was literally as basic as it gets, so it stickered at around $48,000. Despite the lack of a sunroof and heated seats, I think it's a good deal. Getting a midsize Cadillac in the past was a sign of retirement and a move to Florida, but now it's the midsizer for people who want a little excitement. It may not be the most refined (528i) or luxurious (E350) car in the segment, but's definitely the most fun. If that's what you're in the market for, get one in black and I promise you won't be disappointed. And this way, when you're at your swinger parties, you can proudly put your Cadillac key in the community bowl and it will stand out amongst the sea of Mercedes, BMW and Audi keys. I'm a Bimmer guy, but this is the Midsizer I'd buy.
Side Note: I want to thank Pine Belt Cadillac on Rt. 37 in Toms River, NJ for being so helpful. Everyone was really awesome and knew their stuff, not just typical BS sales pitches.